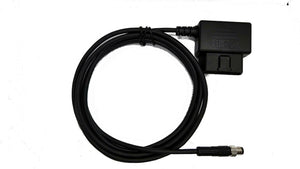 Description
OBDII cable with M8 connector for RaceCapture systems with M8 connector system.
Specifications
Length: 2M
Right Angle OBD-II connection
M8 connection to RaceCapture
Not sure if your ECU supports CAN over OBD-II? If your ECU is 2008+ you are good to go. A few 2006/2007 vehicles provided early support for CAN bus. Email us if you think your early ECU might support CAN; we'll let you know!